Choir of the Sound strives to be an active member of the community beyond its season performances.
We seek to give back to our community primarily through outreach performances in various venues and through our Choir of the Sound Scholarship, which encourages young high school singers to keep music in their lives.
Beyond Choir of the Sound's regular season performances, COTS singers perform at many other community venues and events, including sporting events such as Seattle Mariners, Seattle Sounders, Seattle Thunderbirds, and Everett Aquasox games, local arts festivals such as the Shoreline Arts Festival and the Bothell Arts Festival, and special events such as the Argosy Christmas Ship cruises. Small groups are also available to perform at private events or parties. If you are interested in having Choir of the Sound sing at an event, please email us, or call us at 206-528-9990.
Choir of the Sound's major community outreach activity revolves around its annual Choir of the Sound Scholarship Award. The goal of this award is to encourage graduating seniors from North King County and South Snohomish County high school choirs to make music an ongoing part of their lives through college and beyond. Choir of the Sound believes strongly that singing and producing wonderful music is a lifelong endeavor and wants to encourage students to continue this pursuit long after high school. Partial proceeds from our annual fundraising auction, "Bottles 'n' Bites," provide support for this award, which is given out annually at the choir's spring Pops show.
2017 Scholarship Winners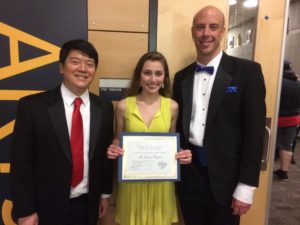 From left, David Horiuchi, COTS Board President, McKenna Sessions, Lynnwood High School, Jeremy Matheis, COTS Director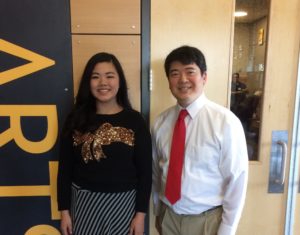 Hanna Liu, Shorewood High School, and David
At our 2017 Spring Pops Concert, Choir of the Sound proudly awarded the 11th Annual Choir of the Sound Scholarship to McKenna Sessions, from Lynnwood High School, and Hanna Liu, from Shorewood High School.
Choir of the Sound strongly believes that music and music education is a life-long activity.  In that spirit, they established an annual tradition of presenting two local graduating seniors with $1,000 scholarships to help them continue their education.  This academic year, the choir accepted applications from the Seattle, Shoreline, and Edmonds school districts.
Choir of the Sound looks forward to continuing their tradition of performing holiday, classical, and popular music in their 2017-18 season.
Past Scholarship Winners
2016: Julia Norton and Madison Hansen, Meadowdale High School
2015: Mara Childs, Shorecrest High School; Susannah Oram, Meadowdale High School
2014: Rachel K. Stone, Edmonds-Woodway High School; Allison Fishman, Meadowdale High School
2013: Cassie Willock, Shorewood High School; Frances Steelquist, Ballard High School
2012: Nathaniel Hendrix, Meadowdale High School; Charlianne Houser, Edmonds-Woodway High School
2011: Sara Alkhedairy, Meadowdale High School; Grey Larson, Edmonds-Woodway High School
2010: John Vogel, Lynnwood High School; Lauren Sweeten, Shorewood High School
2009: Victoria Forslund, Lynnwood High School; Cameron Hollingshead, Mountlake Terrace High School
2008: Chelsea Zappone, Meadowdale High School; Laura Hoover, Edmonds-Woodway High School
2007 (inaugural year): Lauren Oglesby, Shorewood High School; Nora Reikosky, Shorecrest High School