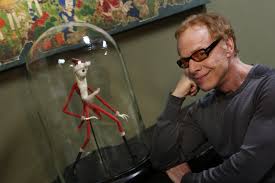 When Christmas comes to Choir of the Sound this December, our cartoon-themed show will include a stop in Halloween Town as we sing a medley from Danny Elfman's score for Tim Burton's The Nightmare Before Christmas, for which the composer won an Academy Award.
The seed of Danny Elfman's career was planted in a movie theater, when as an 11-year-old he saw Forbidden Planet, and was captivated as much by Bernard Hermann's score as by the movie. As a musician, Elfman is self-taught. He dropped out of high school to travel to France with his older brother Richard, where the two took part in an avant-garde theater troupe. Upon their return to Los Angeles, they founded a performance troupe of their own named The Mystic Knights of Oingo Boingo. With Richard's departure from the group in 1979, the name was shortened to Oingo Boingo, and it became a rock band with a theatrical flair.
In 1985, Tim Burton asked Elfman to write a score for his movie Pee-Wee's Big Adventure. They quickly formed a rapport, and that film became the first of a long collaboration. It led to more movie-score work and a hectic career for Elfman, who continued to write, perform, and record with his band.
The soundtrack is the last element added to a movie, so Elfman was accustomed to coming in late in production and spending a relatively short time developing the music. Because The Nightmare Before Christmas was animated, the music had to come first. The project stretched over two and a half years, and quickly became deeply personal for Elfman. As the child of secular Jews, Christmas had made him feel sad and left out as a child, but he dearly loved Halloween. The struggle of Jack Skellington–the Pumpkin King of Halloween Town who had perfected his act but felt unfulfilled and frustrated–mirrored his experience with Oingo Boingo. He wanted to leave the band, but didn't know how to go about it. He poured himself into the songs, and when it came time to record demos of the songs, he told Burton that he badly wanted to sing them in the movie. Fortunately, the rest of the production team agreed; although an actor provided Jack's speaking voice, that's Danny Elfman singing the role of Jack Skellington. Here he is performing "Jack's Lament" at The Nokia Theater in Los Angeles in 2013.