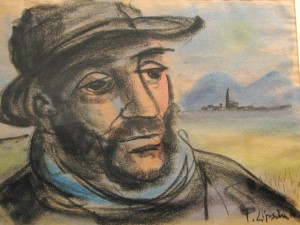 —By Cindy Jacobs
One of the most widely recorded songs in our Winter Concert program is "Poor Wayfaring Stranger." Alternately titled simply "Wayfaring Stranger," the song is thought to have originated in Appalachia in the late 18th or early 19th century.  Although there is disagreement about whether it began as a white folk song or a black spiritual, today it is both a gospel standard and a folk favorite.  The lyrics, on which many variations exist, depict a lone wanderer hoping to "go over Jordan" to see his family as well as his savior.  Like many of the spirituals in our program, these lyrics certainly lend themselves to a double meaning (see our previous posts here, here, and here).
Burl Ives' version of "Wayfaring Stranger" was so well-known that he titled his autobiography after it.
"Poor Wayfaring Stranger" has been recorded by dozens of other artists and has been featured in films. We will be performing a beautiful arrangement by one of our Choir of the Sound composers-in-residence, Derek Curtis-Tilton.
Check out the Bluegrass Situation's page featuring 20 different recordings of this classic by a very eclectic group of singers!  As an extra treat, here is a version by the amazing Peter Hollens, performing with the equally amazing Swingle Singers.