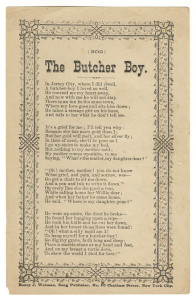 –By Cindy Jacobs
Although most of the pieces for our Winter Concert, "Raise Your Voice," are spirituals, we will be presenting some other pieces that share similar stylistic aspects. One such piece is "Go Dig My Grave."
The "story" is taken from "The Butcher Boy," an American folk song derived from traditional English ballads with the common theme of a young woman who takes her own life after being betrayed by her lover.  Sheet music for this song dates back to the 1880s.
Several versions of "The Butcher Boy" were recorded in the first half of the 20th century, including by Kelly Harrell (1925), Vernon Dalhart (1927), Bradley Kincaid (1928), The Blue Sky Boys (1940), and Peggy Seeger (1955).  "The Butcher Boy" also has been covered as recently as 1995 (Kirsty MacColl) and 1997 (Sinead O'Connor).
In his 1928 recording of the song, Buell Kazee changed the "The Butcher Boy" to "The Railroad Boy."  Joan Baez recorded this version in 1961 on her album "Joan Baez, Volume 2."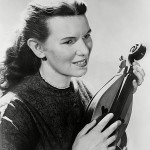 American folk music singer, songwriter, and Appalachian dulcimer player Jean Ritchie (dubbed the "Mother of Folk") wrote her own version of "The Railroad Boy" with additional lamentation ("Oh Lordy, Lordy…"), entitling it "Go Dig My Grave" from one of the lyric lines. She recorded it in 1963 with Doc Watson. In 2004, composer Sally Lamb McCune arranged it as part of "Voices of the Hills: Four Appalachian Songs for Women's Choir." Ms. McCune currently serves on the faculty at Ithaca College.
Enjoy Joan Baez' performance of "The Railroad Boy" and the Jean Ritchie/Doc Watson performance of "Go Dig My Grave" below.  And be sure to come hear the Choir of the Sound's sopranos and altos sing Sally McCune's arrangement on March 11 or 12!